AC/DC's Power Up had me making a connection with the modern Star Wars fan. I never could understand how they could get all geared up for something was mostly likely to be below the standards of what came before it.
But, here we are in the lousy year of 2020, and I was ready to accept whatever AC/DC had coming with excitement. Mediocre or otherwise. I just needed something to look forward to.
Well, now the finished product is here and I am happy to report that I don't have to settle for mediocre. Power Up is different at times. I know, unthinkable for AC/DC to do something different. But it is good different. And it blends nicely with the their "usual".
I do have a couple of minor gripes though.
At times, I find there has too much going on at once. The opening track, Realize, does this at its launch with every instrument and the vocals chiming in at the same time. One of my favorite things about AC/DC is how the band usually builds toward coming together, like on Thunderstruck or Hells Bells. It is not something the happens a lot and not always at the beginning of a song. I just found it a little jarring whenever it did.
Also, Brian Johnson's lead vocals are sometimes a little low in the mix. No where near as bad as they were on Fly On The Wall but it is surprising since producer Brendan O'Brien is behind the board again. And his work on the bands previous two albums, Black Ice and Rock Or Bust was flawless.
Anyway, as I said, minor gripes.  The majority is solid. 
The second tune, Rejection features a great bluesy solo from Angus and Shot in The Dark is the album's first single that has really grown on me since its release from few weeks ago.
Through the Mists of Time is my instant favourite. This one is totally out there, starting with the lyrics…
Through the mists of time
The mists of time
All the restless cries
Through the mists of time
On a mountain high
Through the mists of time
I've never heard anything like it from AC/DC before. This is the same band who wrote "Honey Roll over, and Lettuce on top".
Kick You When You're Down feels like a mash up of blues lyrics from Powerage with the angry groove of Flick of the Switch. Witch's Spell features Cliff Williams sliding down the bass with Angus hammering out a jangly lead riff that works really well. Demon Fire has an I Feel Safe in New York City vibe, but with a more interesting riff. It just wouldn't be an AC/DC album without some sort of devilish reference, eh? This one is a toe tapper for the fans and I can see it getting played at the live shows… at least for the supporting tour… if it happens.
Wild Reputation feels like a left over from Stiff Upper Lip while No Man's Land sounds like the sequel to Fly on the Wall's Stand Up. I mean these both as a positive. Angus shows off the incredible sustain his guitar tone has on Systems Down as they book end the tune's bouncing riff.
And just when you thought you were going to get an AC/DC album without any sleaze, Money Shot steps in for the penultimate track. In one of the many interviews Angus has done lately, he claimed to not have known what a "Money Shot" is in relation to pornography. It is just a term he had heard while on set shooting music videos. Now, after hearing the chorus…
Doctor, what's the antidote?
Lady, try the money shot
Doctor, what's the antidote?
Lady, just try the money shot
(Best taken when hot)
All I can say to that is…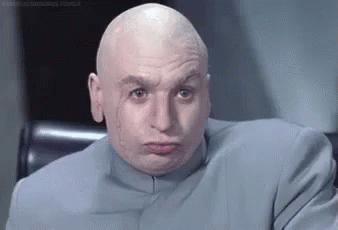 It has a playful vibe and is a fun track. Especially with Brian putting on "the voice" for the line "Best taken when hot". Best not to take it too seriously.
The album wraps up with Code Red which has Brian wrapping off lyrics as quick as he did in Back In Black. The riff might only be half of Beating Around the Bush but it works. The only thing with it finish off the album is how it leaves you leaves hanging on a cliff when it is done. You want more, dang it!
Realistically, Power Up does not have a single track that is likely to set the world on fire. I'll be surprised if any of them continues to get regular airplay once the promotional machine dwindles down, but that hardly matters. Radio hits are for Taylor Swift. A consistent good rock 'n roll album is what we have come to expect from AC/DC. They delivered.
As an AC/DC album: 4/5
Compared to everything else: 4.1/5
More AC/DC:

[Album Review] High Voltage (US)
[Album Review] Let There Be Rock (US)
[Album Review] Powerage
[Album Review] If You Want Blood (You've Got It!)
[Album Review] Highway To Hell
[Album Review] Dirty Deeds Done Dirt Cheap (INT)
[Album Review] For Those About To Rock (We Salute You)
[Album Review] Flick of the Switch
[EP Review] '74 Jailbreak
[Album Review] Fly On The Wall
[Album Review] Who Made Who
[Album Review] Blow Up Your Video
[Album Review] The Razors Edge
[Album Review] AC/DC Live
[Album Review] Ballbreaker
[Album Review] Stiff Upper Lip
[Album Review] Black Ice
[Album Review] Iron Man 2 (Deluxe Edition)
[Album Review] Rock Or Bust
[Album Review] Live At River Plate
[Album Review] Power Up
[Album Review] High Voltage (AUS)
[Album Review] T.N.T.

[Boxset Review] Bonfire
[Boxset Review] Backtracks (Deluxe Edition)

[DVD] Review] Stiff Upper Lip Live
[DVD] Review] Family Jewels
[DVD] Review] Plug Me In
[Blu-ray Review] Live At Donington
[Blu-ray Review] No Bull | The Director's Cut
[Blu-ray Review] Live At River Plate

[Book Review] Bon: The Last Highway | Jesse Fink